Seminar Info
---
May 10, 2017 2:00 PM
PIDS Conference Room, 18/F Three Cyberpod Centris-North Tower, EDSA, Quezon City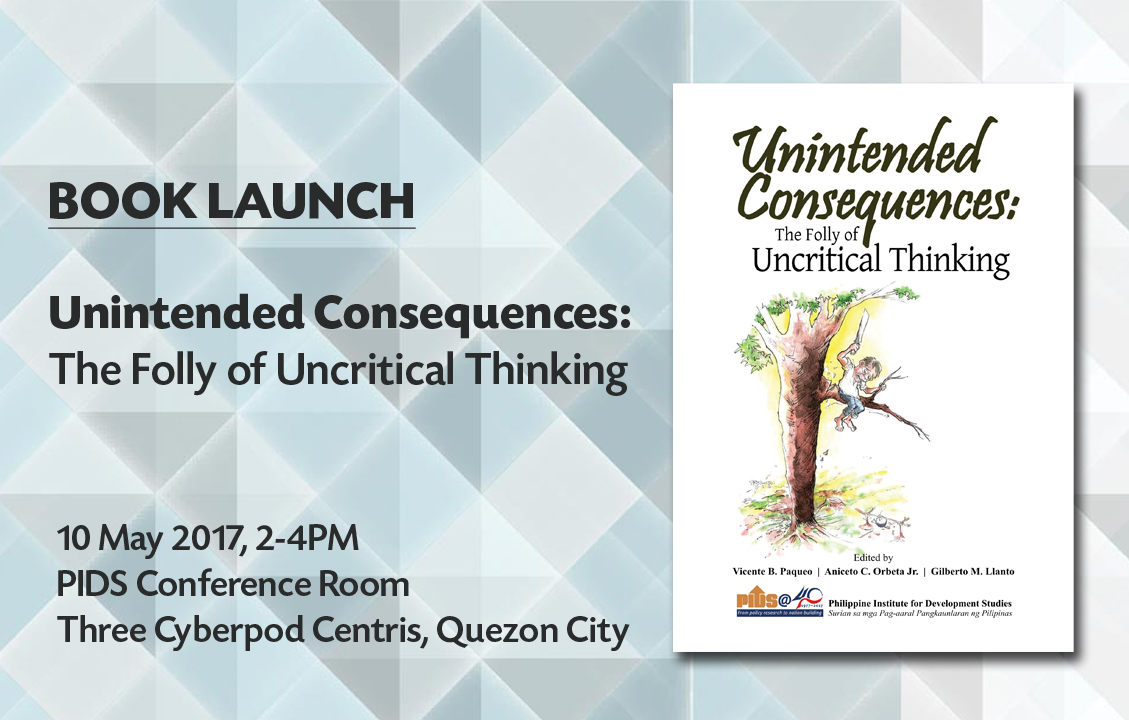 The Philippine Institute for Development Studies (PIDS) will hold a formal book launch for its new publication, "Unintended Consequences: The Folly of Uncritical Thinking", on May 10, 2017 at the PIDS Office in Centris, Quezon City.
Edited by PIDS President Gilberto Llanto and Research Fellows Aniceto Orbeta and Vicente Paqueo, this book contains 10 chapters discussing some of the most hotly contested issues in recent history. The topics covered in this book range from daily concerns like traffic, food, salary, rent, to larger industry and environmental concerns like overfishing and logging. The book also tackles controversial topics like sex education, minimum wage, conditional cash transfer, and unemployment.
You may download an e-copy of the book here:
http://pidswebs.pids.gov.ph/CDN/PUBLICATIONS/pidsbk2017-unintended_fnl.pdf.
For more information about this event, please contact:
PIDS Public Affairs Division
Tel. No.: 89774016 / 8774017 /877-4032
Email: inquiries@mail.pids.gov.ph
Gallery
---