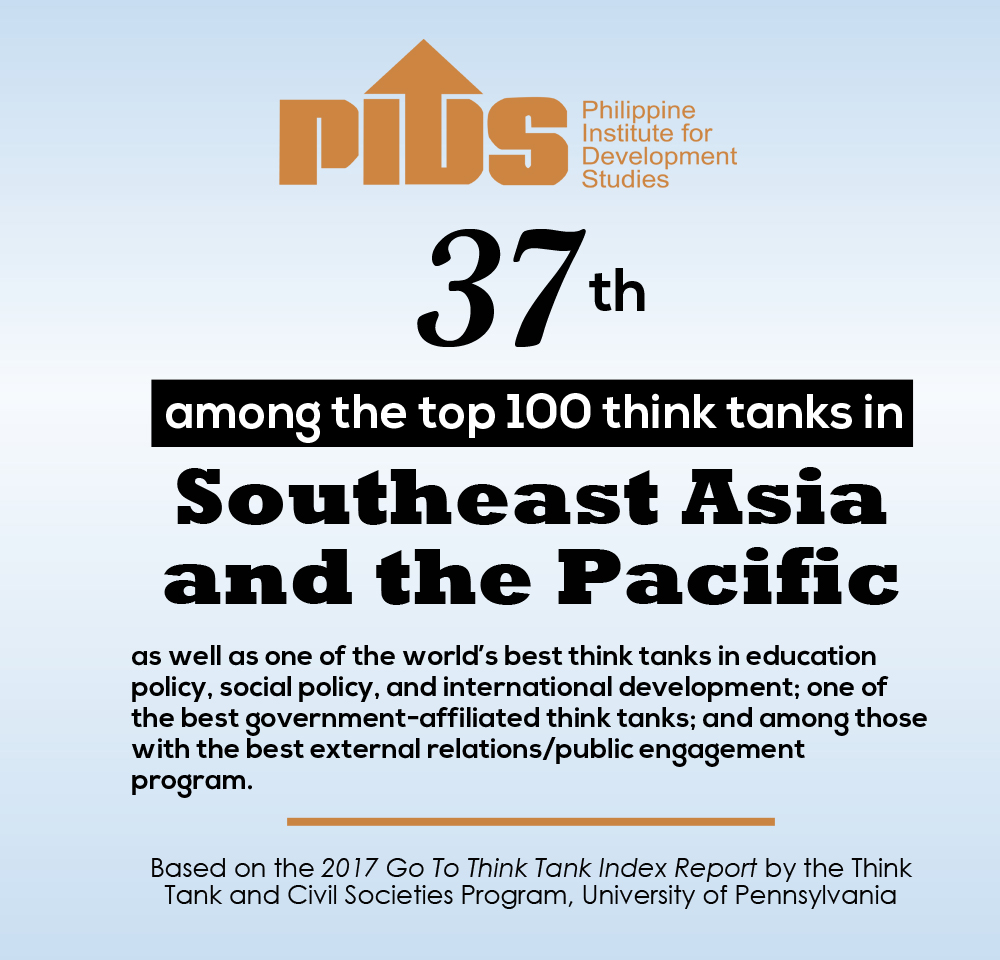 The Philippine Institute for Development Studies (PIDS) remains one of the best think tanks in the world. Based on the
2017 Global Go To Think Tank Index (GGTTI) Report
, the PIDS has also climbed from its previous rank of 38
th
in 2016 to 37
th
in 2017 in the list of top 100 think tanks in Southeast Asia and the Pacific. The report was released by the Think Tanks and Civil Societies Program (TTCSP) of the University of Pennsylvania. The GGTTI is a comprehensive ranking process that acknowledges the important contributions and emerging global trends of think tanks worldwide.
According to PIDS President Gilberto Llanto, this feat is a tacit recognition of the unwavering dedication and commitment of PIDS researchers and employees in their effort to produce high-quality policy studies that help decisionmakers and planners in crafting development policies, plans, and programs.
"It highlights the strong culture of credible, independent, and data-driven policy research that PIDS has become known for," Llanto added.
Since 2012, PIDS has been making great strides in various categories of the GGTTI. For 2017, it was again recognized as among the world's top think tanks in the following research areas: education policy (33
rd
), social policy (38
th
), and international development (72
nd
). Moreover, it landed 70
th
in the list of best government-affiliated think tanks and 77
th
among think tanks with the best external relations/public engagement program. The East Asian Development Network (EADN) Secretariat, which is being managed by the Institute, ranked 78
th
in the list of best think tank networks. The EADN is a network of institutes and centers in developing countries of East Asia. It sponsors research and capacity-building activities.
The selection process was tedious. For the first round, the TTCSP sent a call for nomination to over 6,500 think tanks as well as to approximately 7,500 journalists, public and private donors, and policymakers around the world. These nominations were tabulated and institutes with 10 or more nominations were included in the next step. Think tanks selected in the first round were placed in an electronic ranking survey. The rankings were tabulated and the list of finalists was generated for review and final selection by the expert panel composed of over 1,900 peer institutions and experts from the print and electronic media, academia, public and private donor institutions, and governments around the world.
The nominated think tanks were rated in the following criteria: quality and commitment of the think tank's leadership; quality and reputation of the think tank's staff; quality and reputation of the research and analysis produced; quality as well as the number and reach of its publications; impact of a think tank's research and programs on policy makers and other policy actor; demonstrated commitment to produce independent research and analysis; ability to convene key policy actors and to develop effective networks and partnerships with other think tanks; ability to use electronic, print, and the new media to communicate research and reach key audiences; media reputation; and positive impact of the organization's efforts to society, among others.
The TTCSP conducts research on the role policy institutes play in governments and civil societies around the world. It examines the evolving role and character of public policy research organizations. Over the last 26 years, the TTCSP has developed and led a series of global initiatives that have helped bridge the gap between knowledge and policy in critical policy areas, such as international peace and security, globalization and governance, international economics, environmental issues, information and society, poverty alleviation, and healthcare and global health. ###
You may download the full report here:
https://repository.upenn.edu/cgi/viewcontent.cgi?article=1012&context=think_tanks