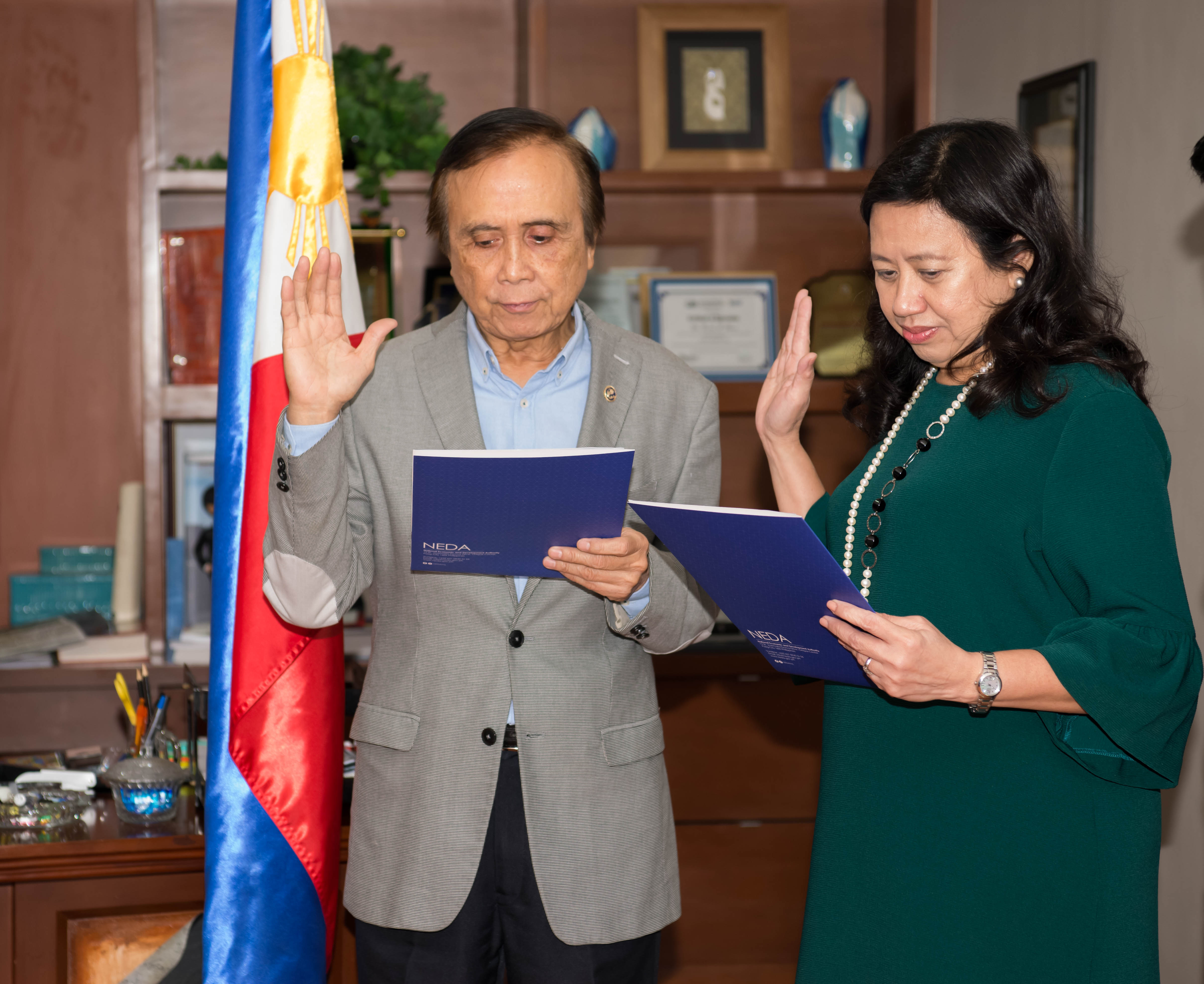 State think tank Philippine Institute for Development Studies (PIDS) welcomed its new and first woman president, Dr. Celia M. Reyes.
She took her oath on March 1 before PIDS Board Chairperson and National Economic and Development Authority (NEDA) Director-General and Socioeconomic Planning Secretary Ernesto M. Pernia at the NEDA head office in Pasig City.
Reyes, a senior research fellow at PIDS for over two decades, succeeded Gilberto M. Llanto who served as president from July 1, 2013 to February 28, 2018. Llanto has been appointed to the PIDS Board as a trustee.
Major thrusts, directions for PIDS
As new president, Reyes is determined to focus on promoting global partnerships and enhancing the Institute's research process.
''In particular, I'd like to promote global partnerships. This means working with international research institutions outside the Philippines and doing collaborative research. The other is enhancing the research process within PIDS. As there has been a big demand for PIDS research outputs, we should ensure that we provide very good policy recommendations and we can do this by enhancing the research process," said Reyes.
Being the new head of the Institute, she urges its officials and staff to continue their commitment to the agency's vision of providing evidence-based inputs to policymaking. "Their commitment has not wavered and I'd like to see that commitment grow even stronger over the next few years. We all have our own strengths and I would like to tap into these strengths so that PIDS can continue to deliver what it has set out to do," she said.
Professional portfolio and contributions
Reyes specializes in the field of econometrics and has conducted and published numerous research and policy papers on poverty assessments and evaluations of social protection programs.
She is also the network leader of the Community-Based Monitoring System (CBMS), providing free technical assistance to local government units in the country in the implementation of the CBMS. The CBMS is a local poverty monitoring tool she developed under the Micro Impacts of Macroeconomic Adjustment Policies project.
As an expert in poverty research, Reyes has been engaged as project leader and resource person in various consultancy projects of international organizations such as the ASEAN Secretariat, United Nations Children's Fund, United Nations Development Programme, Australian Agency for International Development, Canadian International Development Agency, Oxford Poverty and Human Development Initiative, International Development Research Centre, and World Bank, among others.
She has also served as president of the Philippine Economic Society in 2011 and has been an adviser to various national government technical working groups on poverty monitoring and indicator systems in the country since the early 1990s. She is currently the chairperson of the interagency committee on poverty statistics convened by the Philippine Statistics Authority, as well as the editor-in-chief of the
Philippine Journal of Development
, PIDS' multidisciplinary social science journal that publishes policy-oriented studies and researches on development issues in the Asia-Pacific region.
Reyes is a cum laude graduate of Bachelor of Science in Statistics at the University of the Philippines and has a Doctor of Philosophy degree in Economics from the University of Pennsylvania. ###

Kindly click here to view photos of the oathtaking ceremony.