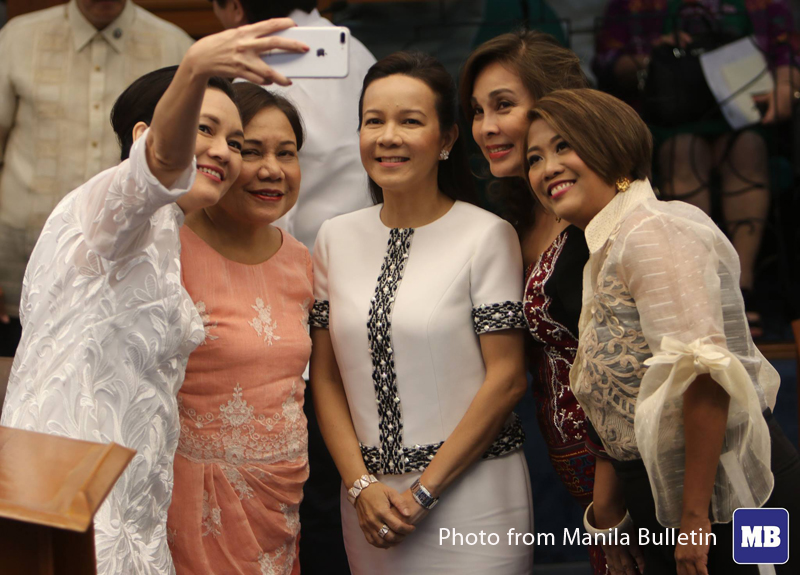 Filipino women remain sorely underrepresented in the highest positions in both the government and industry, where the most important policies are decided.
This was according to a study by state think tank Philippine Institute for Development Studies (PIDS) that looked at current statistics on female representation in key leadership positions in the Philippine government and industry.
Top-level positions in government include elective and appointive positions across the legislative, executive, and judicial branches. In industry, these positions include chief-level positions, board memberships, and director positions.
The PIDS study authored by Jose Ramon Albert, Clarissa David, and Jana Flor Vizmanos, PIDS senior research fellow, consultant, and research analyst, respectively, maintained that women should have a voice in the decision-making process especially for policies that concern their welfare, such as family leave policies and equity in recruitment and promotion.
Greater female representation at the top levels of governance and business is critical to sustain developments in gender equality in the Philippines, they stressed.
Achieving gender equality is part of the 17 Sustainable Development Goals (SDGs) and the 2030 Agenda for Sustainable Development that the Philippines and other United Nations member-states have committed to achieve.
The authors noted that the share of positions held by women in the Philippine Congress, which was at 27 percent in 2015, is still below parity. In the Philippine Senate, the number of female senators has been from 3 to 6 out of 24 since 2001.
"Only Loren Legarda has ever served in a leadership position within the Senate as the majority leader of the 12th Senate in 2001. No female has ever assumed the rank of Senate President or House Speaker," they stated.
Gender inequality in government is even worse among local elective officials, such as in the positions of governor, mayor, and lower elected positions.
"In 2013, only 11 percent of elected local officials were female, a sharp decline from 20 percent in 2010, 18 percent in 2007, and 17 percent in 2004. At the barangay level, specifically, women occupied only 19 percent and 27 percent of all barangay captain and councilperson posts, respectively," the PIDS paper indicated.
The small number of women in elective office, according to the study, may be attributed to the limited involvement of women in electoral politics and not to the low inclination of the general public to vote for them.
Citing 2017 data from the Commission on Elections, the authors noted that only 17 percent of the national and local candidates from 2004 to 2016 were women. As a result, women currently hold roughly one in every five national and local elective positions.
In the executive branch, the cabinet posts have been dominated by men, with women cabinet officials usually holding traditionally female-associated areas such as health, tourism, and social welfare. Women have been less represented in the areas of economics, budget and management, finance, and foreign affairs.
"A target of 40-percent representation across all high-level offices is reasonable given that half of the population are women and assuming that voters do not discriminate by sex," the authors maintained.
Likewise, the authors noted that the presence of political dynasties, which occupy the majority of the highest-level local offices in the Philippines, makes it more difficult for women to enter politics without dynastic connections.
Female representation in leadership positions in industry
Gender inequality at the top level positions—chief-level positions, board memberships, and director positions—also exists in the business sector. Data from the World Bank suggest that women hold only 32 percent and 11 percent of the corporate executive and board member positions in the Philippines, respectively.
"Filipino women at the top executive positions usually hold posts as treasurers, corporate secretaries, and finance managers. Philippine firms that have women as chair or president are also usually in the retail, food, and pharmacy sectors," the authors explained.
On the other hand, the authors noted that Filipino women's share in senior and middle management is close to proportional against women in the population. Citing data from the Philippine Statistics Authority, they pointed out that women have been occupying 40–43 percent of management positions in the past 15 years, which is even higher than their overall current labor participation rate.
"A greater participation of women in all industry levels is good for business since female managers and decisionmakers see additional aspects of problems and solutions in the daily operations of their companies. Women are informed by their own challenges and experiences, which are different from those of men," the authors concluded. ###

This press release is based on a PIDS Policy Note titled "Filipino women in leadership: Government and industry".